"Dear Reader" Here's The Meaning Behind Midnights
Weedsport's Biggest Taylor Swift Fan Gives Her Takes on the New Album
11-time Grammy winner Taylor Swift released her new album "Midnights" on October 21st, 2022. The album is supposed to be about different sleepless nights where she was up late thinking about something. Many people have different opinions about what and who she was thinking of. As a dedicated Taylor Swift fan for the last 12 years, I feel confident to debunk and confirm different theories about these 20 songs (13 tracks with 7 bonus songs). 
Lavender Haze 
Taylor in a Tik Tok says that she wrote Lavender Haze after hearing the phrase in an episode of the T.V. show Mad Men. She looked it up and saw that it was a popular phrase from the 1950s that was used to describe someone in love. She says that it's about not letting people stop you from being in love even though they try to put in their opinion. 
Taylor has had to dodge a lot of engagement rumors about her long-time boyfriend, Joe Alwyn. I believe that the line, "All they keep asking me (all they keep asking me )/ Is if I'm gonna be your bride / The only kind of girl they see (the only kind of girl they see) / Is a one night or a wife." from Lavender Haze references this idea.
Maroon
Some say this song has to do with the short-lived relationship Taylor Swift had with Tom Hiddleston in the summer of 2016. Taylor Swift met Tom Hiddleston at the Met Gala on May 4th, 2016. This may relate to the line "And I chose you / The one I was dancing' with in New York / No shoes, looked up / At the sky"
There is another line referenced in the song about Taylor Swift having a roommate who bought cheap wine. I was interested in this line because I had heard that Taylor Swift had a roommate with who she later cut ties with named Karlie Kloss. After research, I saw that the Daily Mail posted an article in August 2014 about how Taylor Swift and Karlie Kloss were roommates. This story was later taken off the site at the request of Taylor Swift's PR team citing safety concerns. 
This is why I disagree with the Tom Hiddleston theory because Taylor Swift did not date Tom Hiddleston in 2014. Taylor Swift was dating Harry Styles in 2014, therefore, I believe this song is about Harry Styles. 
Anti Hero
Taylor Swift made a Tik Tok describing what Anti Hero was about. She said that she has never "delved this deep into my insecurities in this detail before." The song talks about her struggle with being a public figure, her depression, and her eating disorder. She calls this a very "honest" song. 
In the music video, she furthers the theme by having different ghosts haunting her house which are meant to represent the ghosts of her past. There's also an overconfident alter ego of herself that puts her into bad situations like drinking too much or saying that she is fat. The alter ego also tells her that "Everyone will betray you." This is supposed to represent the devil on her shoulder leading her to believe false things or do bad things. There is also a scene where she goes to a dinner party and everyone runs away from her. This could represent her abandonment issues after being left by friends and lovers alike. The song and music video also details the fear that someday she will be killed by her future children for her money. This represents her fear of being taken advantage of by the people she loves. 
Snow On The Beach
Taylor said in a Tik Tok that Snow On The Beach is about, "falling in love with someone who feels the exact same way as you." She says that this situation is as rare as snow at the beach. This song is probably about Joe Alwyn. 
The line "Now I'm all for you like Janet" is a reference to Janet Jackson's song called "All for You."
You're On Your Own, Kid 
This song is track five on this album which is the track that Taylor Swift believes is the saddest. Past track fives have been things like All Too Well on Red and Dear John on Speak Now. 
The song details her past reliance on other people's love and admiration. This idea is best represented in the line, "I hosted parties and starved my body / Like I'd be saved by a perfect kiss."
The song does end on a happy note when she says, "'Cause there were pages turned with the bridges burned / Everything you lose is a step you take / So make the friendship bracelets / Take the moment and taste it / You've got no reason to be afraid." 
Specifically the "Cause there were pages turned with the bridges burned" may reference the Kim Kardashian and Kanye West drama of 2016. The incident started when Kanye West wrote a song called Famous saying that he made Taylor Swift famous which references when West interrupted her acceptance speech for the Video Of The Year award at the VMAs in 2009 to say that Beyonce deserved it more. Taylor Swift responded by saying that she had not approved of that lyric. Kim Kardashian then posted a video showing Taylor Swift agreeing to let him use the lyric. She then got "canceled" on the internet which caused Taylor Swift to go into a year of hiding. The video was later proven to be edited. 
Midnight Rain
Midnight Rain is about breaking up with someone because they want to settle down but you want to pursue your career. This idea is referenced most specifically in the line "He wanted a bride / I was making my own name." 
Some suspect this song was about Taylor Lautner but Taylor Lautner was only seventeen when dating Taylor Swift so he wasn't probably focused on settling down. 
I believe this song was about Tom Hiddleston because he was 35 when he started to date Taylor Swift while she was 26. This would make sense because Tom Hiddleston may have been wanting to settle down while Taylor Swift still wanted to be on her own. 
Question… ?
Some people theorize that this song is about Karlie Kloss. I find any theory made by "Gaylors" (fans who believe Taylor Swift to be gay) offensive because it's disrespectful to assume someone's sexuality when they haven't said anything about it. The first line of the song is also, "Good girl, sad boy". 
I believe this song is about Harry Styles. The song "Out of the Woods" on 1989 is demoed in this song. The song Out of the Woods is also about Harry Styles. Question… ? starts with the phrase "I remember" which is repeated over and over again in the song Out of the Woods. The idea of "Good girl, sad boy" is referenced throughout the song Style which is about Harry Styles. Taylor Swift and Harry Styles were also caught kissing at Dick Clark's New Year's Rockin 'Eve. This incident may have been the inspiration for the line "Did you ever have someone kiss you in a crowded room / And every single one of your friends was / Making fun of you / But 15 seconds latеr they were clapping too?"
Vigilante S**t 
I believe this song is about Scooter Braun. The beef between Taylor and Scooter Braun started when Taylor's masters (master recordings) were up for sale. Taylor was interested in buying her masters back but instead Scooter Braun bought them. Taylor alleges that Braun bought the masters out from under her while Braun alleges that Taylor passed up on the opportunity to buy back her masters. 
The lyric I think best indicates that the song is about him is the line "She needed cold hard proof so I gave her some / She had the envelope, where do you think she got it from? / Now she gets the house, gets the kids, gets the pride / Picture me thick as thieves with your ex-wife." Scooter Braun divorced his wife Yael Cohen Braun this July in a $20 million divorce settlement. Though Yael and Taylor have never been seen out together, it seems the most fitting. 
Some people think that the song is about Kanye after his divorce from Kim Kardashian in March. I disagree with this theory because Taylor has beef with Kim and probably wouldn't be "thick as thieves with your ex-wife". 
A hint Taylor made for the release of this song before it came out was her wearing a black dress on Late Night with Seth Myers in 2022. The dress was very similar to the "revenge dress" worn by Princess Diana after she filed for divorce from Prince Charles which is another high-profile divorce of its time. This matches up to the line "Lately I've been dressing for revenge."
Bejeweled 
This song is about a woman who feels like a piece of arm candy but then becomes empowered enough to leave the person she's with. The relationship she is most likely talking about is her relationship with Calvin Harris which started in 2015 and ended in June 2016. Taylor Swift felt she wasn't supported by him most notably when he refused to be her date to the Grammys and then decided to instead spend the night in the music studio. The line "Puttin' someone first only works when you're in their top five" best references this. 
Another line represents the first time Tom Hiddleston and Taylor Swift met at the Met Gala. The line is "But some guy said my aura's moonstone just 'cause he was high / I went dancin' all night and you can try to change my mind". There is a video of Taylor Swift and Tom Hiddleston dancing together at the Met Gala in 2016. The dress that Taylor Swift wore to the Met Gala was metallic so that may represent the line "Best believe I'm still bejeweled when I walk in the room / I can still make the whole place shimmer" and "Diamonds in my eyes, I polish up real, I polish up real nice (nice)". 
There is a music video for this song released that stars Taylor Swift, Laura Dern, the HAIM sisters, and Jack Antanoff. One shot in the music video shows a bunch of elevator buttons. I theorize that each of these buttons represents each of her albums and also possibly a hint towards her next re-record. Taylor Swift started to re-record her old albums after the masters were bought by Scooter Braun. The elevator buttons in numerical order are Taylor Swift, Fearless, Speak Now, Red, 1989, Reputation, Lover, Folklore, Evermore, Fearless (Taylor's Version), Red (Taylor's Version), Midnights, and then a mystery button at the top. The Red re-record and Fearless re-record are the same colors as the original recordings of the albums and the mystery button is the same color as Speak Now meaning that the Speak Now re-recordings are next. 
Labyrinth
Labyrinth is about falling in love and being surprised it has lasted. This song is most likely about Joe Alwyn 
In the song she says "Breathe in, breathe through / Breathe deep, breathe out" which was also used in her New York University commencement speech on May 18th, 2022. This line in the speech was probably a hint about the release of Midnights. 
Karma 
Taylor Swift told Apple Music that Karma "is written from a perspective of feeling like, really happy, really proud of the way your life is, feeling like this must be a reward for doing stuff right and it's a song that I really love because I think we all need some of those moments."
The Karma theory was also reinvigorated by the announcement of this song on the tracklist. The Karma theory is that there was an album that was supposed to come out after 1989 called Karma. The album was later canceled because of the Kimye (Kim Kardashian and Kanye West) drama. There have been multiple hints that this album has existed including the word Karma spray painted with all the other of Swift's studio albums on a wall in The Man music video. Some people believe that the Midnights album is actually Karma rebranded. I believe this theory because a lot of the songs on this album match up with the hypothetical release date of Karma which would be 2016. I believe that some of the songs may have been used on her next studio album after 1989 called Reputation and when she started to record Midnights she filled it with more modern songs. 
The line "Sweet like honey, karma is a cat / Purring in my lap 'cause it loves me" is a reference to her three cats Olivia, Meridith, and Benjamin. 
Sweet Nothing 
Sweet Nothing is about feeling comfortable and safe in a relationship. The song was co-written with Joe Alwyn. I theorize that the song Sweet Nothing is Joe Alwyn's response to the song Peace on Swift's ninth studio album Folklore. In Peace, the main question is "Would it be enough if I could never give you peace?" meaning that she would never be able to have a life not in the spotlight because she is a celebrity. In Sweet Nothing the main line is "All that you ever wanted from me was nothing." which would be Joe Alwyn saying that he didn't care what she couldn't give him.
The line "Industry disruptors and soul deconstructors / And smooth-talking hucksters / Out glad-handing each other" is a reference to her record label selling her masters to Scooter Braun. 
Mastermind 
Mastermind plays with the idea that Taylor Swift is a master manipulator who tricks everyone into being in love with her. This idea was also used in Blank Space on 1989 which is a satire about what people said about her relationships. 
Another song parallel in Mastermind is the line "So I've been scheming like a criminal ever since / To make them love me and make it seem effortless" which is an idea that Taylor has talked about in the past in Mirrorball on Folklore in the line "I've never been a natural / All I do is try, try, try". Both lyrics are about trying to seem like they're naturally good at something when they're not. 
The Great War 
The Great War is the first of seven bonus songs on Taylor Swift's album. The song title is the British name for World War 1. The Great War is about not letting the past creep into a relationship and working through fights. The song is most likely about her relationship with Joe Alwyn being corrupted by the Kimye drama, her past relationship backlash, and her scandal with Scooter Braun. 
Bigger Than the Whole Sky
Bigger Than the Whole Sky is theorized to be about a miscarriage. Some say it's about a miscarriage that Taylor Swift might have had. I find this theory super offensive because if someone hasn't shared that they had a miscarriage, it's super disrespectful to theorize about someone having one. I do think the song is about someone having a miscarriage but Taylor Swift has written about things that haven't affected her before like Epiphany which is about war and Ronan which is the true story of a mother whose son died of cancer. 
Paris 
Paris describes the feelings during the early stage of a relationship. I believe the song is about Joe Alwyn because Taylor Swift and Joe Alwyn were seen walking the streets of Paris on May 24th, 2019. 
The line "I wanna brainwash you into loving me forever" could be a reference to the song Mastermind which is earlier on the album. 
High Infidelity 
High Infidelity has to do with Taylor Swift cheating on Calvin Harris with Tom Hiddleston. Taylor Swift wrote "This Is What You Came For" for Calvin Harris under the name Nils Sjoberg. The song was demoed with Swift's vocals but the pair ultimately decided to have Rihanna sing on the song instead. The song did well and peaked at No.3 on the Billboard Hot 100. In an interview with Ryan Seacrest, Calvin Harris responded to the question of him ever collaborating with Taylor Swift by saying "You know, we haven't even spoken about it. I can't see it happening, though." This Is What You Came For was released on April 19th, 2016 and the interview was on the same day. While Calvin Harris was at a release party for the song, Taylor Swift was at her friend Gigi Hadid's birthday party. She was seen leaving the birthday party in the early hours of April 29th but nothing else is known about what else she did the rest of the day. Two days later she met and started dating Tom Hiddleston. This coincides with the line "Do you really want to know where I was on April 29th? / Do I really have to tell you how he brought me back to life?" Taylor Swift may have been mad about him not crediting her and decided to cheat on him to get revenge. 
Glitch 
The song Glitch is about Taylor Swift's relationship with Joe Alwyn and how it's a perfect mistake and she is surprised it has lasted this long. There is a line in Glitch that says "But it's been 2,190 days of our love blackout". 2,190 days is about six years which is how long Taylor Swift and Joe Alwyn have been together proving this song is about him. 
Would've, Could've, Should've
Would've, Could've, Should've is about reflecting on a relationship with an inappropriate age gap. This song is about John Mayer who Taylor Swift dated when he was 32 and she was 19. Taylor Swift is now 32 and she is reflecting on how that relationship may have affected her at such a young age. Lyrics like "And if I was a child, did it matter / If you got to wash your hands?", "And now that I'm grown, I'm scared of ghosts / Memories feel like weapons / And now that I know, I wish you'd left me wondering", "But, Lord, you made me feel important / And then you tried to erase us", and "Give me back my girlhood, it was mine first" best reflect how she feels on the topic. 
Dear Reader
Dear Reader is Taylor Swift's message to her fans to not trust her advice because she doesn't know anything about life. This is best represented by the line "Never take advice from someone who's falling apart". The song is interesting because the verses are full of advice like "Dear reader, bend when you can / Snap when you have to" while the choruses are all about not trusting her advice. It's a very ironic song. Overall it's a perfect way to end a very introspective and self-degrading album
About the Contributor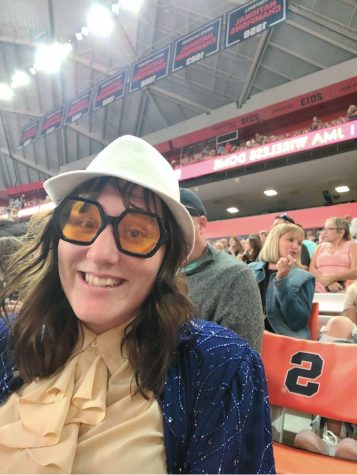 Adrihanna Collins
Adrihanna Collins is a senior who has been writing for The Johnny Green for three years and this will be her second year on WTV. Her hobbies include reading...