Tiny Town With Funny Name: Sound Familiar?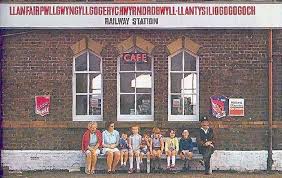 Have you ever heard of Llanfairpwllgwyngyllgogerychwyrndrobwyllllantysiliogogogoch? Well neither had I. As it turns out this isn't  just some made up word, it is actually the name of a village in North Wales. Not surprisingly this town has one of the longest town names in all of Europe with a total of 58 letters. It is hard to spell and even harder to pronounce.
Although it is broken down as: lan-vire-pool-guin-gith-go-ger-u-queern-drob-ooth-clandus-ilio-gogo-goch, in case you were wondering. This monstrosity of a town name roughly translates to: St Mary's Church in the Hollow of the White Hazel near a Rapid Whirlpool and the Church of St. Tysilio near the Red Cave.
Now you're probably wondering why anyone would name a town Llanfairpwllgwyngyllgogerychwyrndrobwyllllantysiliogogogoch, but as it turns out, it wasn't always this way. Originally, the town was named Llanfair Pwllgwyngyll, meaning "The Mary church by the pool near the white hazels." However, around the 1850s a railway was built between Chester and Holyhead.
As a way to try to encourage trains, travellers and tourists to stop at the village, the name was changed to Llanfairpwllgwyngyllgogerychwyrndrobwyllllantysiliogogogoch and has remained that way ever since. Now, there isn't too much to do in this town, in fact it wasn't even very well known. Although this little town got a lot of attention when newscaster Liam Dutton managed to correctly pronounce it's big name.
At this point I'm sure that you have probably heard all the jokes about our unfortunate town name. I mean the name Weedsport is something that's pretty easy to make fun of, but look on the bright side, at least your town isn't named   Llanfairpwllgwyngyllgogerychwyrndrobwyllllantysiliogogogoch.
For more on this town, check out the following link: https://www.youtube.com/watch?v=fHxO0UdpoxM