A Changing Rivalry: Weedsport vs. Port Byron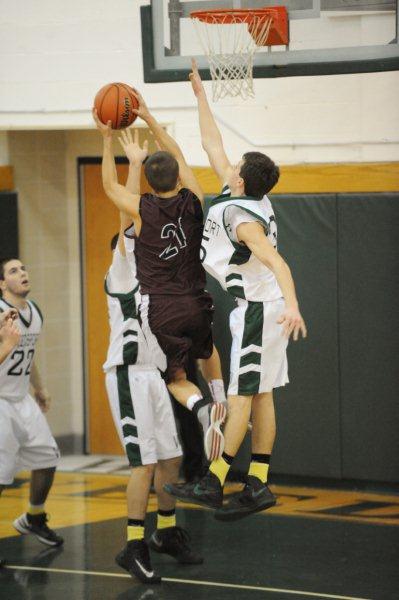 A rivalry that started 40 years ago, during the football preseason, after one little fight in the parking lot? Seems fair. That's the  Port Byron vs. Weedsport  rivalry. A rivalry that takes place on all of the athletic fields of Weedsport (and sometimes in the community as well).  Is it as intense as it was? No, it has really died down over the years.
"Unfortunately for me, Port Byron wasn't that great at football during my time on varsity football, so the rivalry wasn't as good as it is now, and was back in the 90s," said Craig Meitz, who graduated in  2009. Meitz then continued, "Overall, the rivalry, will never lose its intensity, no matter how long it lasts. We're all brought up to 'hate' Port Byron and losing to them is unacceptable and not the Warrior way."  
After the Port Byron football team beat Weedsport 14-7 in October of last year, for the first time in nearly 40 years, the rivalry gained even more strength. The worst part of the loss? It was on our own turf.
In every sport, there is almost at least one good memory against Port Byron. "I remember one game where the police directed our bus to go back to Weedsport a different way!" said Weedsport Alumni, Shary Jorolemon. "Weedsport won the game, and a lot of Port Byron students were in a large group ready to stop our bus and keep us from going on." The rivalry is in all sports, including field hockey, basketball, golf, and of course, football.
In 2009, the Weedsport vs. Port Byron boys basketball game, also Weedsport's "Senior Night," was definitely a different atmosphere. "For basketball, Port Byron was my senior night and all week we had asked the community to wear white t-shirts to the game for a 'white out.' It ended up actually being really awesome besides the outcome, where we lost, but the atmosphere was the best I ever played basketball in," said Meitz, referring back to his senior night game in 2009.
In golf, previous golf coach Mr. Carr said his favorite memory of the rivalry was when Weedsport beat Port Byron in a very close match in 2012. Weedsport broke a long streak of Port Byron's golf match wins. They had won 30 straight matches before that night.
The one game everyone remembers? The devastating 14-7 loss in football to Port Byron. You may have seen a couple pictures around the school with the Port Byron fans crowding our field. The caption reads: Ultimate Motivation. Not only did they beat us on our own turf, but according to current varsity football coach, Roger Jordan, that was the first time they had beaten us in almost 40 years. That's what renewed the rivalry.
When asked about, the season opener where Weedsport beat Port Byron 27-2, senior Lance Myers said, "… pretty soon no one will be playing them. They moved up to Class C because of the merge with Union Springs.  I'm glad our football team destroyed them one last time!"  When asked about the rivalry, Myers said, "It's probably the best a rivalry could get. A few miles away, and everyone hates each other, which makes the games even more intense."
He couldn't be more right. The schools are about four and a half miles apart, which makes it even better.
"Well it is always intense. Against Port Byron, I always feel I have to go harder and faster than against others," said freshman Alec Barner, looking back on the 2012-2013 Sports Season against Port Byron.
So, is the rivalry still there? Yes it is. Is it as "alive and happening" as back in the 1970s? Not so much. Even though most sports will not be facing Port Byron for much longer, this is the year to have the "final laugh" and show them Warriors were meant to hunt Panthers.